Christmas is a truly 'magical' time for children but as my two have got older I have been keen to remind them that the festive period it as much a time for giving as it is receiving, encouraging them to think of others that maybe not as fortunate.
After various discussions last year on what we could do to help someone else have a 'magical' Christmas we started what I hope will become a family tradition – The 'reverse advent calendar'.  There are many ways you can get the children involved in helping others this Christmas, we have included a few ideas below.
1. The Reverse Advent Calendar
Alongside opening traditional Advent calendars,  put aside a box and on each day of Advent pop an item in the box.  You can do it for various causes and charities including Wharfedale Refugee Response, Leeds Baby Bank, the Leeds North and West Foodbank or you might want to use it as an opportunity to sort through toys before Santa arrives and donate to your local Children's Centre.
You can have fun decorating the box in a "Christmassy' way and even make Christmas Cards and put them in with the donations.
The Leeds North and West Foodbank are part of the #foodbankadvent campaign, more details of the campaign and where to drop your boxes can be found here
Ideas of what to put in your Foodbank parcel could include: (ring pull cans if possible)
Cereal
Soup
Pasta
Rice
Pasta sauce
Beans
Tinned meat
Tinned vegetables
Tea/coffee
Tinned fruit
Biscuits
Non-food items are also welcome:
Toiletries – deodorant, toilet paper, shower gel, shaving gel, shampoo, soap, toothbrushes, toothpaste, hand wipes
Household items – laundry liquid detergent, laundry powder, washing up liquid
Ideas of contents for a reverse advent calendar for Leeds Baby Bank could include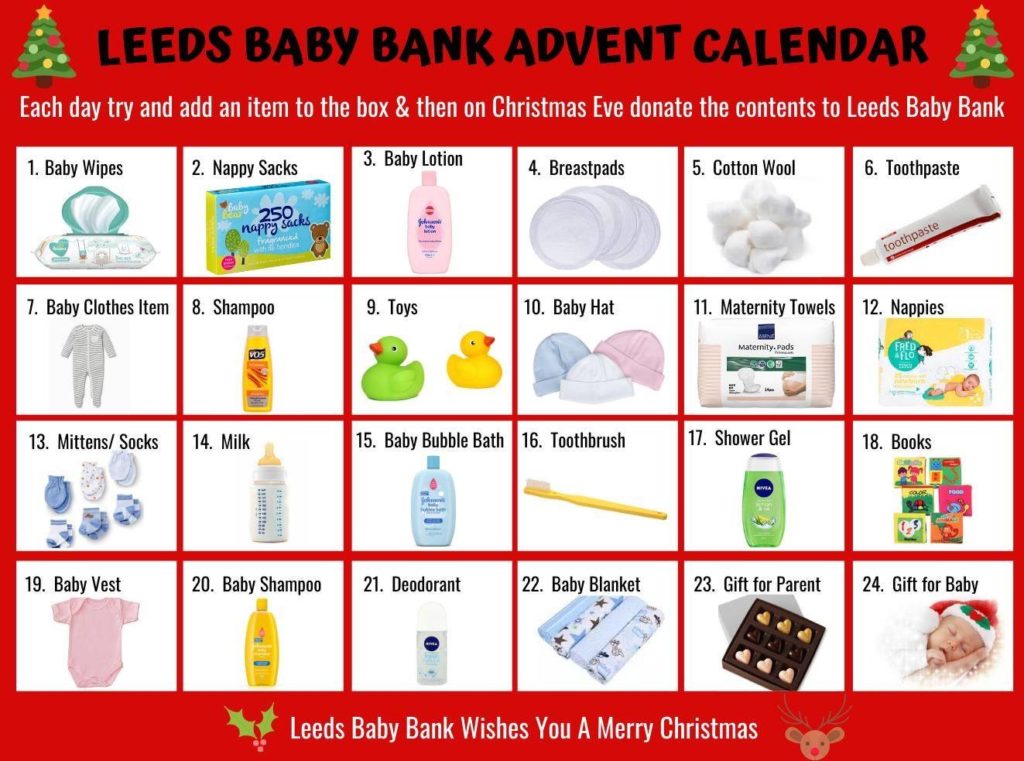 It's always wise to visit an organisations website or Facebook page first where you'll find lots of information on the types of donations they can and can't accept for Health & Safety reasons.

The Wharfedale Refugee Response is even hosting a Reverse Advent Calendar Drop-off event.
2. Cash for Kids Mission Christmas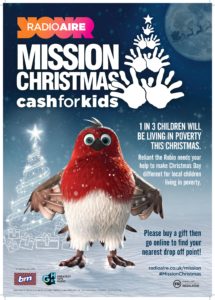 Every year the Cash For Kids 'Mission Christmas' appeal invites people to buy one extra gift alongside their Christmas shopping, that can be given to a disadvantaged local child to make their Christmas morning special.
Radio Aire need as many people as possible to take part, to make this the best year yet for disadvantaged families in our region.  To help you simply need to:
Buy one extra gift, suitable for a child or young person aged 0-18 years.
Drop your gift off at one of the many drop off point across Leeds before the 17th December.  You can find details of the collection points here.
Please be aware, gifts must be new and should not be wrapped.
If you don't have time to buy a gift you can also DONATE BY TEXT.  Just text AIRE to give £5 or AIRETEN to give £10 to 70808.  Or you can donate online by Clicking here.
**Texts are charged at your standard message rate and 100% of the donation will come to Cash for Kids. Please obtain the bill payer's permission first.
3. Yorkshire Bank Bike Library
Anyone with an old bike they're not using any more can take it to a local Yorkshire Bank donation station, where it'll be spruced up and used in one of the bike libraries throughout the region to help change the life of another child.
Full details of the bike libraries near Wharfedale & Craven are:
4. Support Crisis at Christmas
Government street counts estimate that more than 4,000 people sleep rough across England on any given night. This is a devastating, dangerous and isolating situation, made even worse by the cold temperatures and festive celebrations.
At 13 centres across the country, Crisis at Christmas gives homeless people good food, friendly company, healthcare and clean clothes – and is a vital first step towards leaving homelessness for good. You can help by reserving a place for a homeless person at Crisis at Christmas, donating a gift or even volunteering your time.
5. Charitable Christmas Events
You can do your Christmas shopping whilst supporting local charities at one of the may Christmas fairs and markets taking place over the next few weeks.  Find the full roundup of Christmas Fairs and Markets across Wharfedale & Craven here. 
Get your family and friends together for a Santa's Fun Run:
Sunday 24th November 2019 enjoy a 5km fun run and walk around Skipton dressed as Santa to raise money for a good cause of your choice! You can enter online and sponsor forms can also be downloaded from the website www.skiptonsantafunrun.com
Sunday 15th December 2019 join hundreds of other in the 5k festive 'Santa Dash' around Leeds City Centre raising vital funds for St Gemma's Hospice.  Find out more on this year's event here.
Carols for Christmas at Leeds Minster takes place on 11th December this year at 7pm. Enjoy an evening of festive music in the beautiful setting of Leeds Minster whilst supporting three brilliant local charities –  Leeds Cares, Macmillan Cancer Support and Maggie's Yorkshire.
6. Festive Charity Gift Box at White Rose Shopping Centre 
Pop a present (unwrapped) in the charity gift box next to Customer Service Centre in White Rose Shopping Centre and make a local child's Christmas special. All donations will be given to Kidz Klub.
Running until 16th December 2019.
The above are just a few ideas of acts of kindness you can do as a family to give back to others over the festive period.  Why don't you join our Wharfedale & Craven Mumbler Chat Group and share your ideas with others?