Featured Listing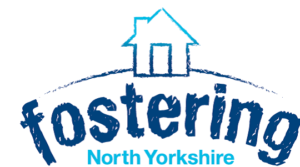 We want to hear from people who could make a difference to the lives of children and young people across the county.
Fostering North Yorkshire is your local fostering service, and we've been supporting families across the county for over 35 years. We're part of North Yorkshire County Council and our foster carers look after over 300 children a year. The foster carers come from a wide range of backgrounds and family make-up, but what they all have in common is their desire to provide a secure and welcoming home for some of the county's most vulnerable children.
In return, we offer the best training available and competitive financial packages with generous tax-free allowances for each child or young person you foster. And we're there whenever you need us, 24/7, 365 days a year.
Contact us at Fostering North Yorkshire
Email:fostering@northyorks.gov.uk
Web:www.northyorks.gov.uk/fostering
Phone: 01609 534654
Featured Listing
Ilkley PANDAS Support group is a peer support group that supports people who are going through perinatal mental health illness such as antenatal depression, postnatal depression, ante and postnatal anxiety, Postnatal OCD, birth trauma and post-traumatic stress disorder and everything in between.
We meet every fourth Friday of the month and for more info please see our
Facebook page
.
We meet at St. John's Church, Ben Rhydding, LS29 8PN from
9:30-11: 30 am every fourth Friday of each month.
You don't need a diagnosis but we encourage people to seek further help from their GP or specialist nurse whenever necessary.
We are a very relaxed and friendly group where we have toys and light refreshments for your little ones, a friendly listening ear for you and a hot cuppa. Herbal or otherwise and always plenty of cake! If you would like any more information please don't hesitate to contact us. ilkleypandas@outlook.com email
(We have just changed our email address from naomidannenberg@aol.com to ilkleypandas@outlook.com, there are leaflets with the old email address, emails will be answered from either account.)
Ilkley PANDAS is people-centred and a non-clinical setting, where people are free to talk without fear of judgement.
Affiliated with the National Charity PANDAS foundation which also offers support in the forms of a helpline, email support and an online community. More information can be found here: www.pandasfoundation.org.uk.
Ilkley PANDAS support group is not a crisis service and if you need crisis support we would advise you to call your crisis team or 999.
*****If you are a healthcare professional or trainee and you either want to volunteer or gain work experience then please email your current DBS to naomidannenberg@aol.com to apply. Thank you. *****
Featured Listing
We are solicitors based in Park Square, Leeds.
We are experts in Medical Negligence and Inquest law.
Medical Negligence
Patients come to us when they are concerned about the standard of medical treatment provided to them, their partner, child or baby, particularly with life changing medical injuries, such as cerebral palsy, where a baby or child will often need a lifetime of expensive specialist care and support.
Medical injuries put a huge emotional and financial strain on people and their families. We investigate whether an injury should have been avoided with better medical care. The law recognises individuals and families should be compensated to help them move forward with their lives if they have received negligent medical care but it also protects doctors and nurses by making these legal tests difficult to overcome.
Because the legal tests to establish medical negligence are so strict, our team of experienced solicitors only practice in this area of law. It is often very challenging, complex and emotional work but we are passionate about helping our clients and their families and getting answers for them. Click here for more information about medical negligence or call us on 0113 209 3848.
Our lawyers receive all telephone enquiries directly so we can provide clear advice from the start.
Inquests
When a loved one dies suddenly or unexpectedly an investigation into the cause of death may be started by a local Coroner with the aim of establishing how and why that person died.
Preparing for and attending an Inquest can be daunting. Our Inquest solicitors help families with this by guiding them through the process and often representing families at the Inquest itself. Click here for information about Inquests or call us on 0113 209 3848.
Contact Details Website: https://www.mintonmorrill.co.uk/
Telephone: 0113 209 3848
Featured Listing
National Online Safety is an independent online safety training organisation founded by three fathers on a mission to keep children safe online. They believe that through our engaging Online Safety training and resources for school staff, parents and children, we can make a difference.
At National Online Safety, the aim is to make the internet a safer place for children. We will achieve this through equipping school staff, parents, carers and children with the knowledge they need to understand online dangers and how best to react should an incident arise.
*Images from National Online Safety
https://nationalonlinesafety.com/
Featured Listing

Breastfeeding Groups and Support in Leeds (Details correct Aug 18)
What is a Breastfeeding Group?
These groups are all run slightly differently; however, you can rest assured you will always be welcomed by a friendly face and refreshments! All group leaders undertake breastfeeding training so that they can offer support and signpost if you need specific help. These groups are open to all breastfeeding mums.
What is a Breastfeeding Peer Support Group?
These groups are run by trained breastfeeding peer supporters. Peer supporters are mothers who have themselves breastfed and have undertaken a training course. They are not able to give specific advice but can offer suggestions and sign-post to the most appropriate and timely help. Any breastfeeding mum is welcome!
Breastfeeding Counsellors
Breastfeeding counsellors have all breastfed and had extensive training. They offer free support, information and practical help. They offer phone support and home visits.
Baby Buddy app (download from app store or visit website) Trusted source of information endorsed by your health professional and promoted to all parents in Leeds www.bestbeginnings.org.uk/baby-buddy-online
USEFUL CONTACTS
NCT Breastfeeding Helpline www.nct.org.uk 0300 330 0770 (8am-11pm)
La Leche League www.laleche.org.uk 0345 120 2918
Association of Breastfeeding Mothers 0300 3305453 www.abm.me.uk
Breastfeeding Network 0300 1000212 www.breastfeedingnetwork.org.uk
National Breastfeeding Helpline 0300 1000212
Adv. Health Improvement Specialist – Infant Feeding Sally – 07712 214867
Breastfeeding Clinic (HV referral only) Meanwood Health Centre – 0113 8433350
Hospital Infant Feeding Team (midwives) 0113 2065367
Peer Support Coordinator Cath – 07843339574 / Suzanne – 07956077800
Leeds General Infirmary – Delivery Suite 0113 3927445
St James' Hospital – Delivery Suite 0113 2069103
Drugs in Breastmilk helpline druginformation@breastfeedingnetwork.org.uk
NCT BREASTFEEDING COUNSELLORS
Val – LS16 0113 2933176
Helen – LS20 01943 877212
Eleanor – LS20 01943 884096
Tracey – BD17 01274 597633
Also facilitated by NCT – Baby Cafe; cake and conversation alongside breastfeeding support from trained NCT
breastfeeding counsellors. Fridays 12pm – 2pm Gipton Methodist Church, Oak Tree Place, LS9 6SX
BREAST PUMP HIRE
Eleanor – LS20 01943 884096
Meet other parents, discussions about breastfeeding, fresh juices available.
Skipton CC
Thursday 1- 2 pm.
Also at South Craven CC 11.30 am -12.30 pm
Healthy Choices is a free, confidential 12-week programme to support children and young people
(5-19) to achieve and maintain a healthy weight. We explore together how to eat healthily without breaking the bank; fun, free ways to stay active; and support you to make positive changes to help you achieve a healthier lifestyle.
Contact for details/referrals and information:
Jenny Thompson, Healthy Lifestyle Advisor,
01609 798200/ 07890 586960.
Email: jenny.thompson@northyorks.gov.uk
La Leche League Cafe, Breastfeeding support group.
First Friday of each month 10.00-12 noon.
The group is run by La Leche volunteers. Topics covered in the group include the advantages of breastfeeding, childbirth and the new baby at home, the art of breastfeeding and overcoming difficulties, nutrition and weaning. Expectant mothers & new mothers welcome. Pram access via the entrance on Riddings Road.
Lower Hall, Ilkley Methodist Church Hall (Christchurch), The Grove, Ilkley, LS29 9LW
barbara@olicana.org
It is our mission to support families in and around the Leeds area who are in need of urgent baby essentials such as Nappies, Wipes and Infant Formula. We also support Leeds families by sourcing baby equipment and clothes.
We always need donations of nappies, wipes, baby formula, baby food and baby equipment. Because no baby should go without!
PeerTalk peer support group for anyone facing depression is starting in Skipton next month.
We have a fabulous team of newly trained facilitators and a great venue, and we'd love everyone in and around Skipton to know that this support will be freely available every single week.
The group will meet every Monday evening, 7.30 – 9pm at The Hub, Skipton Town Hall, High Street, Skipton, BD23 1AH.
The first meeting takes place on Monday 12 November and meets every week thereafter – same time, same place.
We know that peer support can help when you're feeling low. The group is primarily for people facing depression and similar mental health difficulties – like anxiety. Depression touches so many other areas, like bereavement, the breakdown of a relationship, any significant life change – and many other situations that are too numerous to list!
Talking helps. Knowing that you're not alone helps. And feeling the support of others can give you what you need to carry on and work through the difficulty until you reach a better place.
Please do share this good news.
You can see how the support group works on our website at http://www.peertalk.org.uk/index.php/support-groups
There are some FAQs there too.
We look forward to being in Skipton and offering this support – we could all do with a little support sometimes!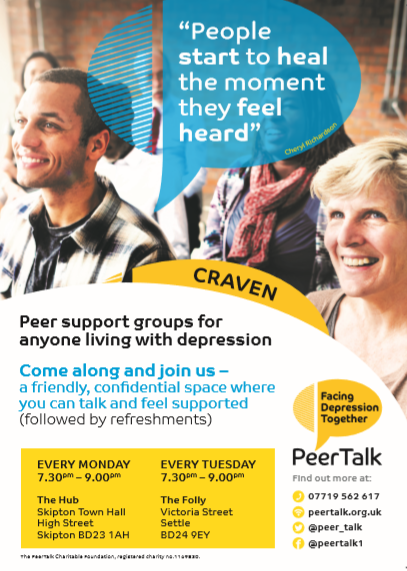 This group is for mum's who are single parents, separated, or divorced with children of any age. It can also be if you feel due to your partner's travelling, work-schedule that you parent primarily alone.
These sessions are confidential and non-judgmental so you will feel safe and can freely speak your mind, feelings and thoughts without feeling blame, shame or guilt!

Outside the Box Cafe, has a lovely play area for children should you want or need to bring your children with you.
Outside The Box Cafe, 2 Bridge Lane, Ilkley, LS29 9HN
Call Anisa 07792176888 for more details.
(4th Wednesday in the month)
South Craven Sparkle Group. Come along to chat to other parent's experiencing similar issues.
Maybe you need to find out more about options for nursery/school, relevant financial support etc.
Support / signposting available to relevant services, support managing family life.
Parents with under 5's welcome 2.15pm – 3.00pm when resources will be available for play session
All welcome.
For more details contact Sarah Williams on
07730512742 or g.swilliams725@btinternet.com. Or
contact Lauren Ellis on 07811474518.
South Craven CC