LEEDS will have a bumper Race for Life weekend this summer, with two brand new events on offer from Cancer Research UK.
For the first time, Leeds girls and boys are being invited to get muddy for a good cause, by taking part in Pretty Muddy Kids on Saturday 2 June. It is a new exciting obstacle course designed just for children – with added mud, thrills and spills.
From scramble nets and space hoppers to mud chutes and muddy pools, children will face a range of fun and muddy obstacles to crawl under, clamber over and charge through. By taking part in Pretty Muddy Kids, children in Leeds can have fun with friends and also help raise valuable funds to beat cancer sooner at the same time.
And also new to Leeds, this year is a Trail Half Marathon. On Sunday 3 June, The 13.1-mile route will take women on a picturesque route through the Temple Newsam Park estate. It will be a varied course over a mixture of hills, grass, forest tracks and paved roads, taking in even more of the beautiful countryside around the House.
Pretty Muddy Kids and the Trial Half Marathon will join the existing Race for Life family of events in Leeds – the traditional 5k, along with 10k and Pretty Muddy courses – providing a wider choice to suit as many participants as possible. And those coming back to take part in Leeds this year will be able to enjoy brand new routes for the 5k, 10k
and Pretty Muddy events too. It is hoped a total of around 6,000 will be taking part in the five events at Temple Newsam over the first weekend in June.
Money raised will help Cancer Research UK scientists find new ways to prevent, diagnose and treat the disease, helping save more lives.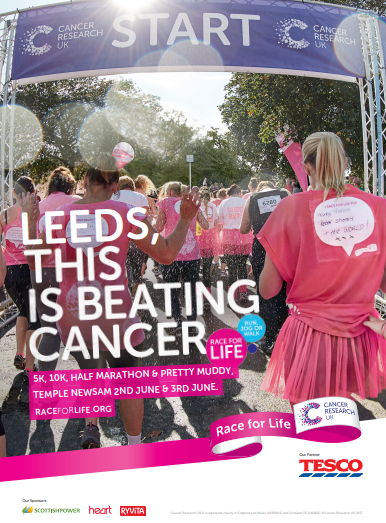 Katie Mathers, Cancer Research UK's Leeds Event Manager, said: "We can't wait to bring both Race for Life Pretty Muddy Kids and Trial Half Marathon to the city for the very first time. The Pretty Muddy Kids obstacle course promises plenty of fun, thrills and spills and we hope children will rally their friends, family and schoolmates to sign up and make a splash for Cancer Research UK.
"Race for Life events are not competitive and children can complete the Pretty Muddy Kids course at their own pace – climbing, jumping, walking and laughing their way around. Whether they plan to wade their way through the mud or make a big splash, every muddy step they take will help to bring forward the day when all cancers are cured."
And for women who want to take on the challenge of the next step up in distance from Race for Life 10k, can give the tougher Trail Half Marathon a try, which will maintain the special atmosphere and unique style of Race for Life.
One in two people in the UK will be diagnosed with cancer at some stage in their lives, but the good news is more people are surviving the disease now than ever before. Cancer survival in the UK has doubled since the early 1970s and Cancer Research UK's work has been at the heart of that progress.
Cancer Research UK's Race for Life, in partnership with Tesco, is an inspiring women-only series of 5k, 10k, Pretty Muddy, Half Marathon and Hiking events which raise millions of pounds every year to help beat cancer sooner by funding vital research.
Cancer Research UK's life-saving work relies on the public's support. Thanks to the generosity of its supporters, the charity was able to spend over £3 million last year in Leeds on some of the UK's leading scientific and clinical research – helping more men, women and children survive.
Katie continued: "Pretty Muddy Kids has all the fun and camaraderie of our much loved Pretty Muddy
events – but with an extra dose of muddy fun for the little ones. And for women wanting to push themselves even further, the Trail Half Marathon will provide the perfect challenge"
With five types of event, it promises to be a fantastic weekend for all the family so we urge people across the Leeds district to pick which is perfect for them and sign up right now."
The entry fee for Pretty Muddy Kids is £10.00. The event is open to boys and girls aged from 5 to 12 years old and there is a minimum height requirement of 1.2m. All children must be accompanied by a supervising adult, who have free entry to the event.
The Race for Life Trail Half Marathon is open for women aged 16 and over. The entry fee is £29.99 and includes a season pass that provides free access to unlimited Race for Life 5k and 10k events to help with training.
Entry to Race for Life 5k and 10k is £14.99 for adults and £10 for girls under 16 and Pretty Muddy is £19.99
To enter Race for Life and Pretty Muddy events today go to raceforlife.org or call 0300 123 0770.