30 Screen-free activities the kids can try at home during Lockdown: I know I am continually trying to think of screen-free things to entertain the kids!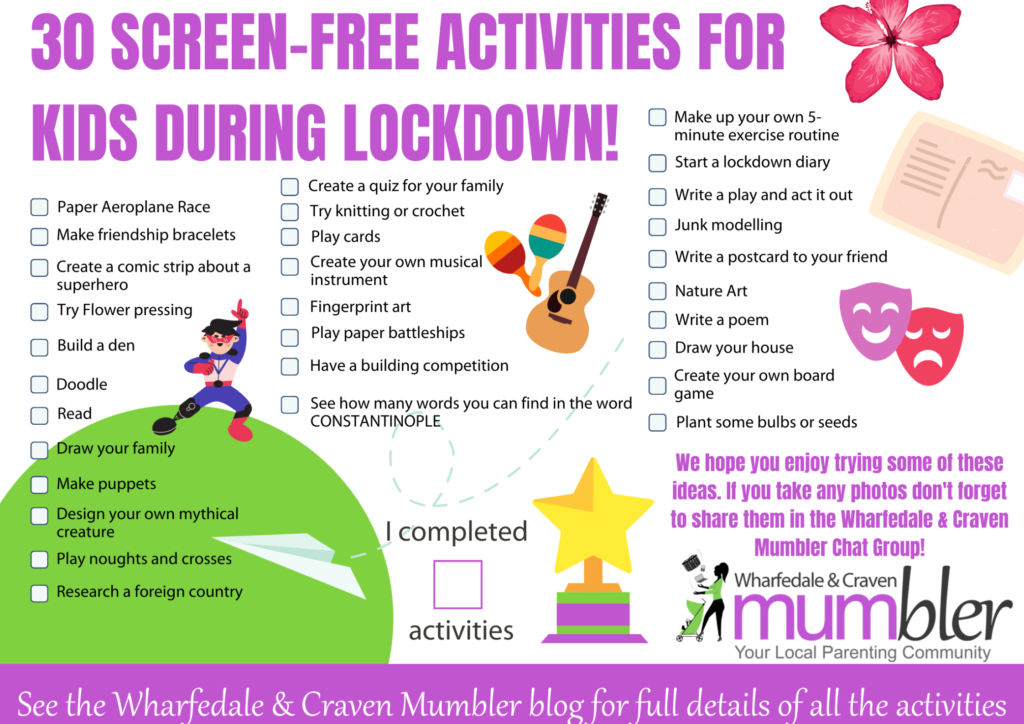 Download a printable 30 Screen-Free activities for kids sheet here
Paper Aeroplane Race: Make your own paper aeroplane and see how far you can fly it! See who can fly theirs the furthest! Best of 3?
Make friendship bracelets to give your friends when you next see them.
Create a comic strip about a superhero: What superpower will you choose and who will be their enemy? Where will they live?
Try Flower pressing: The first signs of spring are beginning to appear, all you need is a beautiful bloom, some baking paper and a thick book!
Build a den: try sheets over the kitchen table, cushions behind the sofa… what will you take in with you?
Doodle: Grab some paper and pens and doodle anything you like! Animals, aliens or something else?
Read: What would you most like to learn about? Can you research a new hobby?
Draw your family: Who will be the trickiest to draw?
Make puppets: use socks, wooden spoons or card and put on a show!
Design your own mythical creature: Could you combine two of your favourites animals? What will you call it?
Play noughts and crosses.
Research a foreign country: what do they eat, what language do they speak? Who could you ask? Could you find the information in a book?
Create a quiz for your family and be quizmaster on your next zoom call!
Try knitting or crochet: this has been a winner with Miss Mini-Mumbler!
Play cards
Create your own musical instrument: will it be a guitar made from a box and some elastic bands, a maraca made with rice and a bottle or something else?
Fingerprint art: Use only your fingertips and paint to create a picture – it can be as big or as small as you like!
Play paper battleships: draw 2 10×10 squares on a sheet of paper, position your ships and take it in turns to try to sink them.
Have a building competition: What will you build? A Lego model, a tower of playing cards, Knex?
See how many words you can find in the word CONSTANTINOPLE – this is one my Grandma used to entertain us with!
Make up your own 5-minute exercise routine and share it with your family.
Start a lockdown diary: Write a short entry every day about what you do and how you feel. It will be good to look back on when this is all over.
Write a play and act it out for your family
Junk modelling: Raid the recycling and see what you can create! Try yoghurt pots, toilet rolls and boxes.
Write a postcard to your friend: tell them what you have been doing and suggest something to do together next time you see them.
Nature Art: collect things from your garden and create a nature masterpiece
Write a poem – they don't have to rhyme!
Draw your house: could you improve it? What would you add, maybe a swimming pool or a slide from upstairs to down?
Create your own board game: will it be a maze, a numbers game or something else?
Plant some bulbs or seeds: can you remember to water them? Maybe you could record their growth and compare the weeks to see which week it grew the most?